Company: QRC
Industry: Concreting
Location: Geebung, Brisbane
Published: 1 June, 2022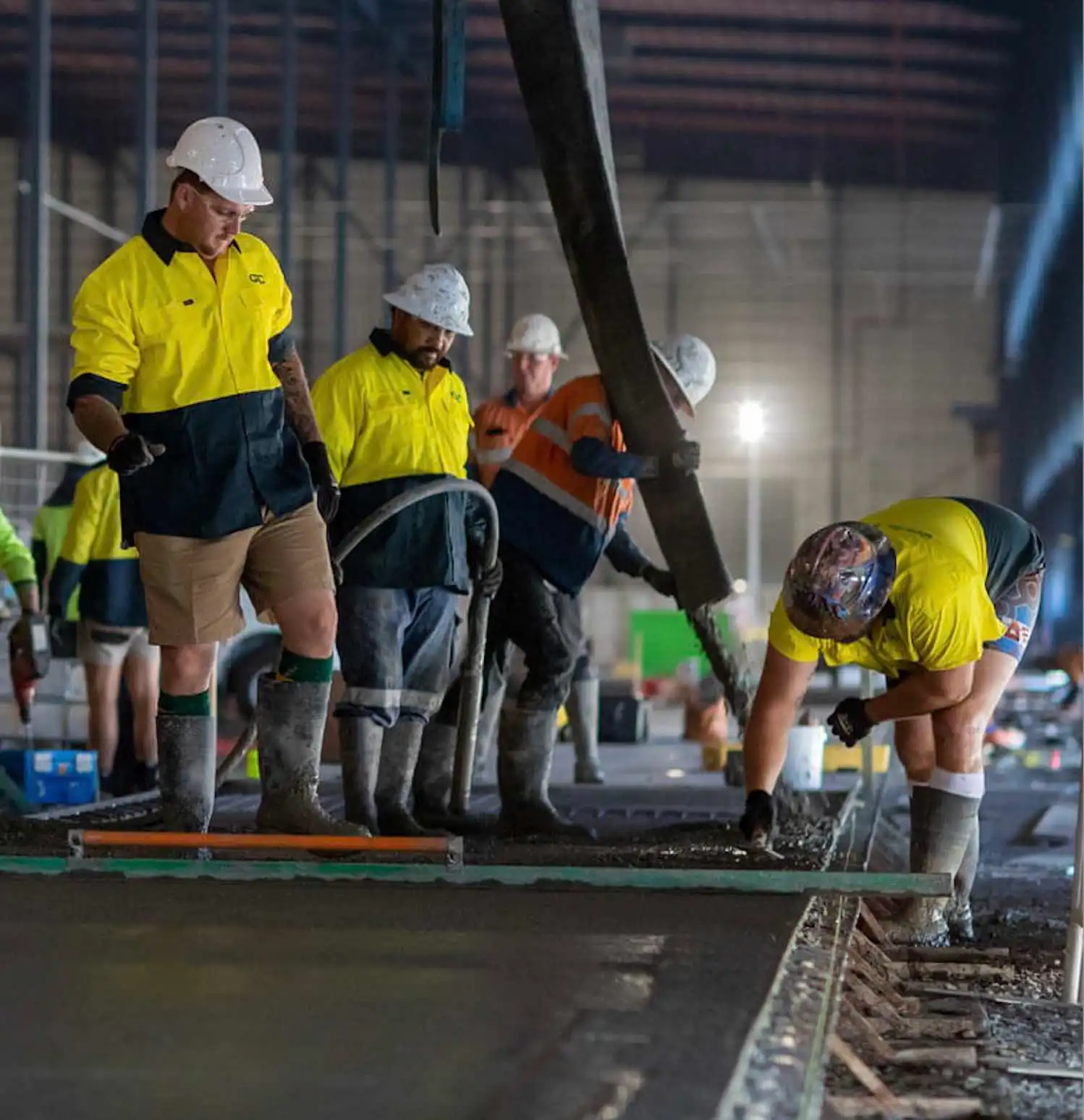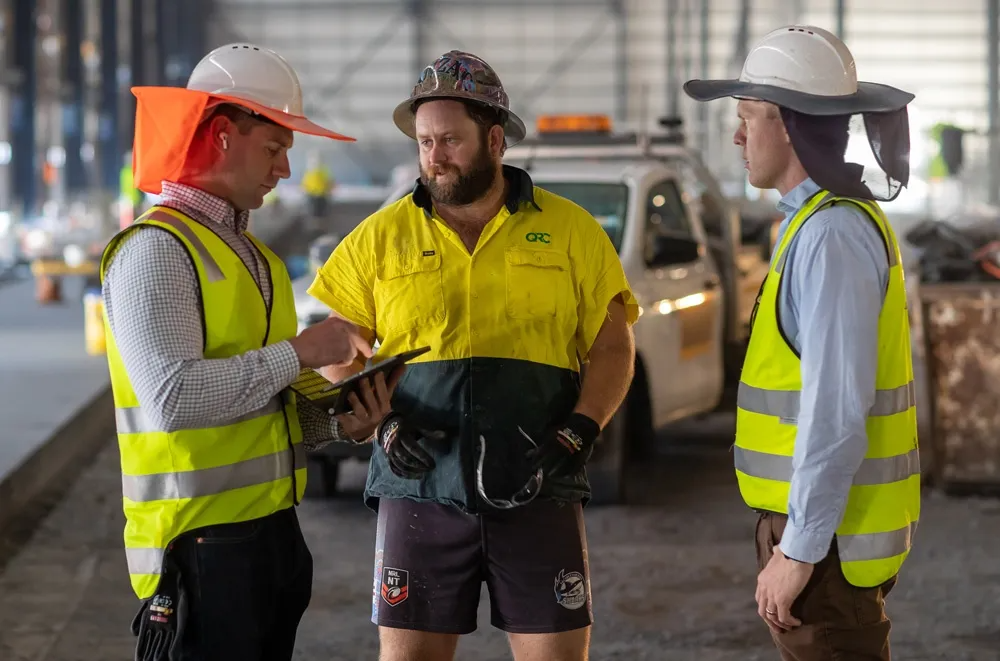 QRC's Ashley Johnson (left) on-site with staff.
Benefits of Neo Intelligence's Construction Software
Johnson describes the transformation of QRC's scheduling process using Neo's construction software program in particular which has resulted in both dollar savings and efficiency improvements through the Neo platform.
Staff Management and Scheduling
"Managing our staff schedules was previously done through using a physical book; we had all our jobs in one column and using paper and pencil had to make changes on the fly," he said.
"It was a full time task for someone just in scheduling. All the daily scenarios that unfold meant that there were many changes to schedules, which made it a very difficult task with a manual system. Managing this huge task reduced that person's ability to be productive doing other things."
Neo Intelligence's scheduling and staff management module has enabled QRC management and site staff to have full visibility over what is happening each day, enabling them to make better informed decisions about staffing needs and job requirements across multiple sites. Updates are live and visible to all.
Centralised Database For Compliance
For QRC, using Neo Intelligence to house all compliance forms required for safety and quality assurance has been pivotal.QRC has been able to create its own forms in the Neo program and have them stored in a centralised database with access to site diary notes.
"All our required forms are assigned to each project," Johnson said. "Our teams onsite have iPads and can carry out their pre-start briefings, inspection test plans and toolbox talks each day and have those recorded and stored.
"We can see what progress is being made and view daily status updates on any given day without physically needing to be there. It is very helpful with our progress claims – you can see what work has been done on what day, and everything is stored in the cloud where it is safe, secure and always accessible."
Another key feature of Neo's construction software program for QRC has been the integration of enterprise agreements and award interpretation into the program to assist with their payroll, which in turn integrates directly into Xero for payment.
Further, Ashley Johnson said that QRC is working with Neo Intelligence on a specific customisation to build a budgeting and cost management module which will provide live daily information assessing labour costs per hour and per project. The module is expected to be released in the near future.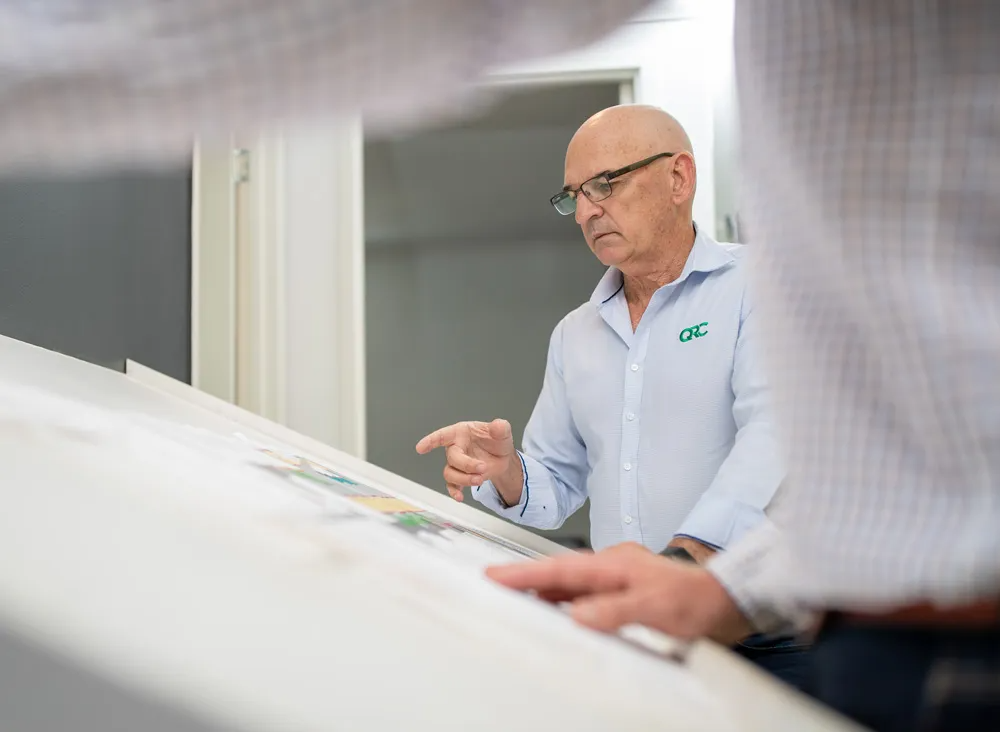 QRC managing director Chris Jones.
Overall Benefits and Savings
The main benefits Johnson sees with Neo Intelligence's construction software program has been in making QRC's people more productive and the immediate lift in compliance for the business.
"It makes our people far more productive," he said. "Onsite, they can carry out all their compliance and scheduling tasks, complete the site diary, log into their profile on the app to sign on and off, and request leave. There are now no longer a myriad of ways to keep critical information with the risk of records and data being lost."
"Beforehand, nothing was being captured in a centralised database – everyone was doing something different. How could we maintain accurate compliance if we couldn't properly monitor our processes?"
QRC is directly benefiting with someone not having to do the work scheduling full time – it is now a part time job. The record keeping and ease of calling up information has been critical too in favourably settling work cover and defects claims.
Ashley Johnson also compliments the Neo Intelligence software on being very easy to use by administrators and workers onsite. It's intuitive and very quick to show staff how to use it.
"We've been delighted with it. It's also very affordable and cost effective.
"Having used it for the last two-and-a-half years it's been a big part of my working life and we're really looking forward to further developments as it grows with us."
To find out how Neo Intelligence construction project management software can help your construction business, schedule a demo for an initial discussion and free demonstration.